Smog delays vital third runway decision
Frustrated airport bosses will have to wait a bit longer to find out where the UK's third runway is going to be, thanks to a last-minute air pollution consultation.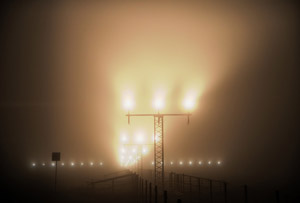 We'll have to wait a bit longer to find out where the third runway is going to be, thanks to a last-minute air pollution consultation.

The Airports Commission has launched an eleventh hour public consultation into air pollution, expected to delay findings which were due to be released imminently.

No we are not talking about the General Election for once, but the long-awaited verdict on the country's air transport infrastructure, the report of the Airports Commission, chaired by Howard Davies, diarist of this parish.

Frequent flier club member amongst you will need no telling that the UK's key airports in the South East are bursting at the seams. Davies' Airports Commission was due to pass judgment imminently on where a new runway should be built in order to ease the strain, reduce the queues for landing and take-off and maintain the country's international competitiveness.

But having already been delayed until after the election, it seems that his findings may have to remain even longer under wraps. According to reports this morning a potential legal challenge to the results has emerged, which requires the launch of a final unanticipated stage of public consultation.

Given the stack of historic delays and prevarications dating back to the 1980s and even earlier surrounding the building of a new runway or even a new airport in the region, this latest scenario is one which will have the bosses of the two favourites in the race, Heathrow and Gatwick, gnashing their teeth with frustration.

The cause of this latest apparent hold up? A decision by the supreme court last month that Britain must speed up its efforts to tackle air pollution. It seems that Davies has decided, at the eleventh hour, that to be secure against any possible legal challenge on these grounds, the public must be consulted over the impact of air pollution on the runway expansion plans.

Here's a quick recap for those of you who have been distracted by the election. The case for Heathrow is broadly that it's popular - already well beyond capacity - and that as it's the UK's major hub for long-haul international growth markets then the new runway should go there. It is also where all the infrastructure to cope with, for example, the huge volumes of airfreight into and out of the country is located.

The case for Gatwick is that aviation is changing and that point to point rather than hub and spoke is where the action will be in future. And also that it would be good for competition and choice – the pro-Gatwick camp say that expanding at Heathrow would be like granting it a monopoly.

There's also the small matter of cost – Gatwick expansion is expected to cost around £10bn, Heathrow more like £19bn.

Of course asking the public for their views on anything is an unpredictable business, as any pollster will tell you this morning, but on the face of it this new consultation seems to play into Gatwick's hands. The roads in particular around Heathrow score very badly for air pollution.

Given the intense scrutiny and sensitivity of the decision (and the fact that a previous decision to build a runway at Heathrow was overturned on environmental grounds in 2010) one can hardly blame Davies for taking a belt and braces approach. His verdict must be seen to be entirely conclusive if it is to hold. However the timing is rather unfortunate, given that he himself is due to take on another substantial new role – that of chairman of troubled state-owned bank RBS – in September.