Smoke & Mirrors: Choosing a company strapline
Can surgical supplies business Smokehouse sum up its business in an engaging, authentic way? And which wig will the CEO be wearing?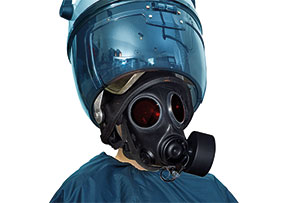 MONDAY
I've noticed that everyone who works in the City tries very hard to avoid the word 'money'. Similarly you'll never hear anyone who works in the NHS using the word 'death'. Here at Smokehouse we all take great pains never to utter the word 'wig'. That's because our glorious leader and CEO Lynton Spivey wears one. Correction. He wears a number of different wigs. Firstly, he has his shorter 'haircut' wig to give the impression he's just had one. Then he has his mid-length steady-state wig. Finally, he has his just off the collar pre-haircut wig, which he normally wears the day before some important event in the racing calendar when he needs a day off for the 'hairdresser'. No one in the company has ever noticed that he's bald and will continue not noticing if they value their job.
TUESDAY
Yesterday was a race day, I beg your pardon, hairdresser day so everyone is looking forward to seeing 'haircut' wig today. It duly arrived unnoticed in the boardroom in time for our crisis talks about marketing collateral. As I'm sure you're aware Smokehouse is one of the UK's leading providers of surgical supplies, prosthetic appliances and associated weird medical shite. But we're having difficulty communicating that in an engaging, relevant, artisanal, and authentic way. Spivey wants a pithy strapline along the lines of 'The World's Favourite Airline'. The board came up with all sorts of interesting suggestions: 'Kneecapping our Customers', 'Dying to do Business With Us', 'We're Taking the Piss', 'The Best In Continents', etc. All wonderful of course but slightly off brand.
WEDNESDAY
The trouble is last year we used highly paid consultants to dream up a new company strapline for us. After a lot of intensive invoicing they came up with 'The Power of Now'. The Brand Team liked it and said they would take about a year to implement it. At its internal unveiling last week the Yorkshire office immediately added a 't' to the Now. 'The Power of Nowt' is actually a beautiful summary of our Northern Region's sales performance in Q2-3. Spivey decided it was now unusable so it's back to the drawing board with the added problem that we only have two days before all our literature goes to press. No self-respecting agency is going to do anything in that time. Fortunately I know an agency where self-respect comes a long way below self-abuse in their corporate values.