Smoke & Mirrors: If only you could fire charities like agencies
Smokehouse's comms chief plays a mean trick on his ex-wife and his trainspotting boss finds immortality does not come cheap.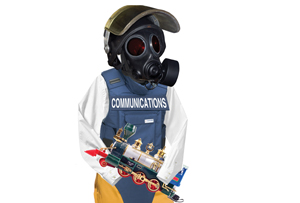 Monday
At our board meeting last week, the finance director, Peter Barnsworth, woke from a deep coma and said the company was about to go under. He told us we needed to make big cuts and then went back to his online betting or whatever FDs do all day. Used to work for Tescos. Fortunately, our bewigged CEO, Lynton Spivey, solved the entire problem by saying we just needed to do less with more. I think he meant more with less, but you never know with him. Reverse scalability, he called it. His ability to manage by cliche never ceases to amaze me. Of course what we really need to do is cut the finance department but like the NHS it's ring-fenced and probably booby-trapped.
Tuesday
Barnsworth has been through the figures and apparently he has identified one area of fat that can be trimmed. Given that he is colossally overweight that's quite a conceptual leap for him. Apparently, our corporate giving is too high. Originally, we supported this charity called Leg Up, which recycled crutches. Of course when you grow as a business you have to support a better class of charity so we dumped Leg Up and I believe it collapsed shortly afterwards. We then got into bed with a big organisation called Life Crisis, mostly because I was in bed with its marketing director at the time. I've divorced her and now it's time to get rid of her charity.
Wednesday
Clearly when you want to ditch a big charity you don't want to give the impression that the milk of your corporate kindness has curdled. Personally, I think you should be able to fire charities just like agencies and say they were a nightmare to work with and their campaigns were rubbish. Charities are basically businesses with added self-righteousness. Isn't it about time they started supporting business? Big corporations are far more ethical than charities. They really should be shadowing us to see just how much of our bottom line goes on supporting the minutest human right of everyone we employ. Fortunately, I remember that my ex used a small print firm called Isis Print based in Oxford. I've therefore tweeted that we're no longer supporting Life Crisis as it does business with ISIS. It's a little bit naughty but no worse than our divorce.