Smoke & Mirrors: Getting to grips with a Brazillian
Can our master of spin's new Brazilian girlfriend help Smokehouse win a piece of the next World Cup?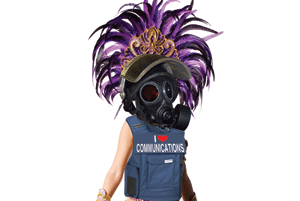 Monday
Spent most of the weekend with my tidy new girlfriend, Conception. She's Brazilian, which is obviously good news, but she doesn't actually have a Brazilian downstairs. It's not necessarily a deal breaker but I can't help thinking of the Trade Descriptions Act.
She's very keen that I pay for us to have a nice holiday in Rio so she can see her mother. Not sure she's really selling that to me, unless her mother is a maximum of five years older than she is. In a beautiful piece of synchronicity I was called into a meeting with our bewigged CEO, Linton Spivey, who announced that Smokehouse should sponsor the World Cup in Brazil next year. Apart from the fact that we're six years too late and several million too poor, it's a good idea.
Tuesday
Narinder Shah, our CMO, is not happy because she thinks sponsorship is marketing's baby, not ours. She sent me a report from this whizzy marketing agency called KumQuat (which sounds like a mash-up of all the things you want to call their consultants).