Smoke & Mirrors: Rising to the challenge
When the comms chief finds Smokehouse has falsified data for its erectile dysfunction vacuum pump, he gets that sinking feeling.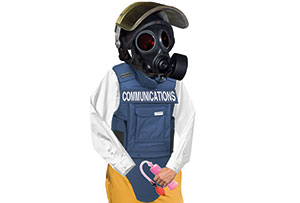 Monday
As I'm sure you're aware, one of Smokehouse's product lines is a vacuum pump for erectile dysfunction. It doesn't come up normally but it's shown spectacular growth recently. As a general rule our bewigged CEO Linton Spivey doesn't pay much attention to our product range except for whatever he's currently using. When he first joined the company about 20 years ago, he was very interested in hair restorers but now he's suddenly turning his attention to our vacuum pump or Trident to give it its proper name. This morning he was flicking through the Trident sales presenter and was waxing lyrical about the effectiveness stats. Apart from one grisly demo illustration, the rest of the presentation is sunrises, rocket launches, mushrooms etc. All beautifully designed.
Tuesday
As corporate communications director one of my many jobs is to prevent the CEO making a public tit of himself. Generally that involves me making sure he doesn't say anything, do anything or move a muscle for extended periods. It also involves me knowing about his working style and his personal life away from the office. Which is why I know he's been seen outside the business in the company of our receptionist Marsha in activities that strain the definition of professional. Of course, what two consenting adults do in private is up to them but I'm not sure Spivey's wife did any consenting. From experience, I know that his wife makes most of Spivey's intelligent decisions so his extracurricular activities are now in the corporate risk box.
Wednesday
Medical reps as you know are always on the attractive side but Hannah Swanson, our erectile dysfunction rep, is a stunner as they say on LinkedIn. If she doesn't do it for you then you're going to need one of our pumps. I don't know if that's how the mind of the consumer works but she certainly sells a lot of Tridents. This morning Hannah was in my office and she wasn't happy. Spivey had apparently demanded a meeting with her and then grilled her on all the statistics in the Trident sales presenter. She admitted she didn't know where they came from and what testing regime was involved but she couldn't understand why Spivey was being quite so aggressive. When she'd gone I cancelled all Spivey's other meetings because I sensed he was in one of his firing-people-as-therapy moods.