Smoke & Mirrors: Why is my teenage son getting up early?
Smokehouse's IT boss makes an embarrassing confession, while the comms chief's slacker son, Henry, starts behaving very oddly.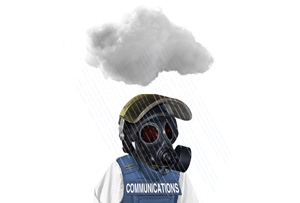 Monday
Nearly died of shock this morning. My slacker son, Henry, was up before me. It's the first I've seen of him for weeks and I'd actually assumed he had rotted into a thin layer of compost under his duvet. He disappeared out of the door with his laptop, which was very strange as his laptop normally guarantees against ever having to leave his duvet, let alone the house. In the bathroom there was also evidence of soap being applied in a meaningful way. Fortunately, Henry explained everything before leaving with a helpful grunt. It could have been 'train' or even 'plane' but, after reviewing his complex pattern of communication over the past 10 years, I reckoned it was probably just a grunt. He certainly hasn't got any communications-director genes from me.
Got to the office and did nothing all day as my computer is down.
Tuesday
Henry was gone again in the morning. For 10 years he has been busy reversing the march of evolution by turning himself back into a stain of primordial goo in his bedroom.