Smoking ban: the side-effects
So the first figures showing the effect of the smoking ban are in – and it's not looking good if you're a seller of 'coffin nails'. UK cigarette sales fell by 11% during July, the first month of the ban in England, compared with a year earlier.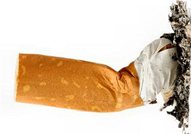 The report from AC Nielsen found that sales dropped 7.3% across July and August, and suggested this was more indicative of trends, saying that July's figures were affected by the unseasonably bad weather. Smokers were apparently reluctant to go outside.

Still, it doesn't bode well for the fag firms. If smokers are testy about nipping outside for a puff under a bit of July rain, then huddling out in the pub car park as the depressing drizzly winter nights draw in is surely just for the most hardcore of baccy lovers.

Indeed, the dark and cold are already descending, just as the legal age for buying cigarettes goes up from 16 to 18 this month. So you can understand why British American Tobacco (BAT) is urging European regulators to lift the existing ban on snus, the smokeless tobacco that comes in a little pouch placed next to the gum under one's top lip.

Snus is banned throughout the European Union, except for Sweden, where it is such a part of the national culture that the country secured an exemption when the ban came in 15 years ago. BAT accounts for around 10% of snus sales in the country.

So what are the dangers, other than an unsightly lump in the mouth and yellowing teeth? A report in the Lancet found that snus does not increase rates of oral or lung cancer. The EU, however, is going on the advice of its scientific committee, which takes a darker view of snus's health risks. Looks like people may have to seek their hit in another way. How about a lunchtime pint?