Smoothie entrepreneurs land Tesco and Sainsbury's deal
Pack'd's frozen smoothie kits will be rolled out in more than 650 stores across the UK.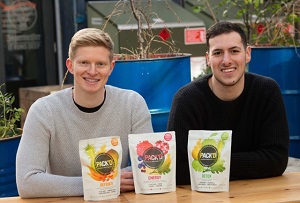 Entrepreneurs making a killing from smoothies isn't a new thing in Britain. The fabled founders of Innocent sold their company to Coca-Cola for tens of millions after building it into a big national brand.
Two young guns hoping to emulate that success are Luke Johnstone and Alex Stewart, the creators of frozen smoothie kits company Pack'd. They only launched the company 18 months ago but it has just landed a big deal with Tesco, Sainsbury's and Costco that will lead to its products being sold in more than 650 shops.
The company's kits each come with two portions of frozen fruits and vegetables and sachets of 'superfoods' like flax seed, maca, chlorella and baobab, which customers blend with juice to make a smoothie. Apparently they 'provide essential vitamins and minerals, are high in fibre and have less than ½ the sugar of leading bottled smoothies,' so they're sure to be a hit with fitness freaks.