The Snowball Effect
Now that Alan Greenspan is out in the cold, who should we turn to for financial inspiration?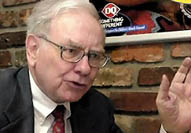 The answer could be well be the Sage of Omaha and world's richest man, Warren Buffett. His recently published biography, The Snowball, spills the beans on his life and on the business philosophies which have netted him his $64bn fortune.
John McLaren, a long time contributor to MT, who also happens to chair the Barchester Group and finds time to write novels, reviews Alice Schroeder's book in the upcoming November issue of MT. Click here for a sneak preview.
As McLaren writes: 'If Gordon Brown is, however briefly, having a good war with his wheeze of sticking bucketloads of cash in wobbly banks, he could at least admit where he got that big idea. I have it on the best possible authority that all the talk in the Treasury and Number 10 was of Warren Buffett's investment in Goldman Sachs.'