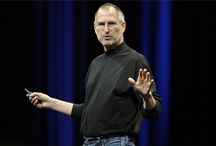 The Social Network screenwriter to pen life of Jobs
Quote of the day: 'There is no writer working in Hollywood today who is more capable of capturing such an extraordinary life for the screen,' reckons Amy Pascal, co-chairman of Sony Pictures Entertainment. That life is that of Apple co-founder Steve Jobs, and that writer is none author than Aaron Sorkin, the man who created box office smash The Social Network, recounting the tale of Facebook's nascency and the rise of founder Mark Zuckerberg. 'We're confident that the film will be everything that Jobs himself was: captivating, entertaining, and polarizing,' adds Pascal.
Published: 16 May 2012
Last Updated: 09 Oct 2013
.
Find this article useful?
Get more great articles like this in your inbox every lunchtime