Should Sodastream have pulled out of the West Bank?
Companies can't separate themselves from the political arena in which they operate.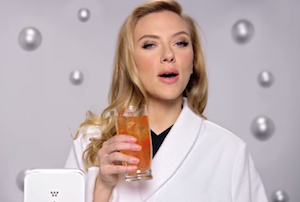 Sodastream has said its decision to move a factory out of a West Bank settlement was 'purely commercial', but it will also rather conveniently bring to an end a storm of negative publicity spearheaded by pro-Palestinian groups calling for boycotts of its fizzy drink machines.

The company is moving the plant from the Mishor Adumim settlement (built on land captured by Israel in the 1967 Arab-Israel war and claimed by the Palestinians) to Israel's southern Negev region next year. It will get a $20m (£12.5m) windfall from the Government for doing so and also score 'savings of 2pc across our entire cost base', a spokeswoman said.

Fair enough, there is probably a business rationale, and a good one at that. Sodastream needs to save money - yesterday it reported third-quarter revenue had fallen 13% to $126m, while net income plunged 42% to $9.5m. Its market cap has almost halved this year as consumers guzzle healthier drinks.

But it also has to have its 'purely commercial' reason in order to save face. The controversy was inflamed when Oxfam, which is opposed to all West Bank settlements, forced Scarlett Johansson to choose between her role as its envoy and Sodastream's advertising dollars (she chose the latter) in January.

Then, chief exec Daniel Birnbaum said he would have 'never' have built the 'pain in the ass' plant there if he had foreseen the fallout, but insisted he would 'not throw our employees under the bus to promote anyone's political agenda'. Backtracking on that was never an option.

There are arguments for the factory being there. It employs around 500 Palestinians from the occupied West Bank and East Jerusalem, alongside 450 Arab Israelis and 350 Jewish Israelis. Palestinians earn double in the settlements what they would make in West Bank private companies. Unemployment is around 18%, rising to 40% among 20-24 year olds, according to the UN.

Many – including people working at the factory – also see it as a laudable example of Israelis and Palestinians cooperating (not something that can be said about their politicians). 'Peace through profits', as a Forbes article on business links between the officially at-odds peoples put it.

On the other side, is the point that the factory is right next to the larger settlement of Ma'aleh Adumim, a town of 40,000 people slated for expansion that, its critics claim, would make a contiguous Palestinian state impossible. Providing jobs in settlements makes their march that much harder to stop.

Regardless of whether or not companies in this sort of context ought to have a political or moral stance, they cannot divorce themselves from the arena in which they are operating. The short-term risks for Sodastream of staying were continued bad press generated by the BDS (Boycott, Divestment & Sanctions) campaigners. There was also the very slim possibility it would have to leave anyway, should the Palestinians ever get their state. In the end, on a 'purely commercial' basis, staying just wasn't worth the bother.