Sony to bring 3D TV into our front rooms
Sony is hoping that its new 3D TV will be the new Walkman, rather than the new Betamax...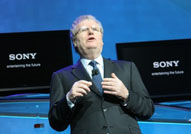 Electronics giant Sony is set to give 3D entertainment a big boost by throwing its weight behind home devices: at a trade show in Berlin today, CEO Howard Stringer will apparently announce that Sony plans to put 3D TVs, DVD players, laptops and game consoles in our front rooms by the end of next year. Given Sony's recent travails, Stringer will be desperately hoping this new format turns out to be a category-killer in the way the Walkman once was…

Sony's decision will be a major fillip for the 3D industry, which until now has largely been concentrating on cinemas. But it looks increasingly like the 3D bandwagon is starting to pick up a bit of speed – Sky has already announced plans to launch a 3D channel next year (although until now, it wasn't entirely clear how we were going to watch it), while the release of an eagerly-anticipated mega-budget new 3D film called Avatar in December should help create a bit more buzz.

Sony is desperately in need of a big new technological success, after seeing rivals like Apple and Nintendo encroach on its previous areas of strength. With the downturn taking a huge bite out of profits in its core electronic division, sending its share price plunging, it's been forced to slash 8,000 staff in a bid to save itself around $1bn. Now it appears to be ready to gamble that the uptake of 3D is going to be a major trend, as opposed to a mere curiosity/ white elephant (like it has been for the previous 115 years of its history). '3D is clearly on its way to the mass market,' Stringer will say today. 'The 3D train is on the track, and we at Sony are ready to drive it home.'

The problem, as always with these things, is the format. The electronics industry hasn't settled on a standard format yet – and as Sony knows all too well from its painful experience with Betamax, losing a format war can have disastrous consequences. Sony apparently has something called 'active shutter' technology, which work via clever glasses. But cinemas use a slightly simpler technology, as does the ColourCode 3D standard (which Channel 4 plan to use to show the Queen's 1953 Coronation in a few weeks). Eventually, TVs are expected to be developed that don't require glasses at all.

So the risk Sony is taking is that it spends millions developing all these new products – but another format could ultimately win out, rendering them obsolete. Stringer will be hoping that the all-conquering Walkman proves a more accurate precedent...

In today's bulletin:
Do you trust your boss?
Currys owner cheers City - with 14% fall in UK sales
Sony to bring 3D TV into our front rooms
Key shareholders fall out again over Indie
Editor's blog: A summer of MPV agony