Sony cancelling The Interview shows it didn't learn from the Playstation hack
The Japanese conglomerate can't be expected to guard against physical attacks, but cybersecurity should be elementary.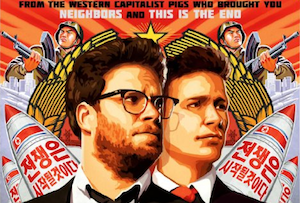 Sony has ditched the US release of its North Korea-skewering comedy The Interview, after America's five largest cinema chains pulled out of showing it when hackers warned people to stay away from screenings yesterday. An unsurprising outcome given Sony wasn't ever likely to fork out for security guards at every single cinema in the country, but one that intensifies the spotlight on its rubbish cybersecurity.

It is of course victory for the 'Guardians of Peace', who are likely North Korean-linked hackers given the pariah state's labelling of the farcical depiction of an attempted assassination of their dear leader Kim Jong-Un as an 'act of war'. Clearly the cinema chains, reportedly leaned on by nervous malls, didn't want to take any risk – despite Obama saying the threat was minute and urging citizens to 'go to the movies'.

There was also a rather disappointing absence of American swagger, especially as the hackers warned people to 'remember the 11th of September 2001'. Predictably, Hollywood stars from Ben Stiller to Steve Carell blasted the decision as a threat to freedom of expression, while Sony hasn't yet said if, when and where the Seth Rogen comedy will be released.

All of this just heaps dung onto the steaming manure pile that is Sony's reputation at the moment. We may chuckle at the emails leaked by the hackers earlier this week, but ego-inflated Hollywood actors are far less likely to want to work with a company whose producers call Angelina Jolie a 'minimally talented spoilt brat'. The Japanese conglomerate will probably also make a loss on the $42m (£26.7m) film, although that's pittance compared to the wider fallout.

Perhaps most importantly, the debacle proves Sony didn't learn from the Playstation hack in 2011, when 77 million gamers' data and credit card details were stolen. Financial and password data is potentially more valuable to hackers, but what they want depends on their motives. And in the business of famous people and the hyperactive media attention that comes with them, emails are clearly reputation dynamite.

Hackers will just take whatever they can get anyway, according to Nick Prescot, a senior information security manager at cybersecurity consultantcy Blackthorn. 'They're trawling the internet like Spanish fisherman are trawling the ocean,' he said. 'If anything can be nicked they'll nick it.'

So everything, including emails, needs to be on lockdown - especially if it's about celebs. That, my dear Sony, is elementary.