Sony presses stop button on Walkman production
A sad day indeed for nostalgia fans - but we guess it's time Sony started concentrated on getting back to the vanguard of technological innovation.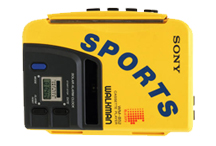 You may not have realised that Sony still made Walkmans (Walkmen?) these days. We certainly didn't – but we still couldn't help going 'ahhh' when we heard today that Sony is finally pulling the plug on production after some 30 years. The company says it has sent out its final batch of the once-iconic and ground-breaking personal stereos to Japanese retailers, after which it will be pressing the stop button for the last time. Sad times for children of the 80s – but for Sony, which is now looking to technologies like as e-readers and 3D TV, it was probably time to move on…

The news appeared on Sony's website accompanied by the simple phrase: 'production finished'. That seems a bit of a terse obituary, considering that since their introduction in 1979, it managed to sell 220m of the original cassette versions of the Walkman (plus another 200m or so CD versions on top of that), helping to make Sony's name as one of the world's most innovative companies. Good(ish) news for die-hard Walkman fans, though (if such people exist): apparently the company will still make 'other tape players and recorders', which will continue to be sold in certain markets in China and the Middle East where demand is 'not totally zero'.

For Sony, though, perhaps it will be a relief to finally see the back of the Walkman. It may have been the company's proudest achievement in the 1980s, when Sony held the leading position in the portable music player market. But in more recent times, as Apple's all-conquering iPod has eaten its lunch, the Walkman must also have been emblematic of Sony's failure to stay at the vanguard of innovation.

However, Sony is now looking to other markets. While its e-reader still hasn't overtaken Amazon's Kindle as the market leader, its tie-up with Google to launch a custom search of Google books on its website suggests it's at least learning from Apple's success with iTunes. The company is also pinning its hopes on 3D TVs – although given that the format still requires silly glasses, and the industry still hasn't got itself sufficiently organised to decide on a standard format, it's taking a bit of a risk with that one. Remember Betamax?

Still: while it's a sad day for those of us who like their music accompanied by a certain hiss, let it serve as a reminder that even iconic products can't resist the relentless march of new technology forever.
ps. Sony shares rose by almost 3% on the Tokyo stock market this morning after rumours circulated that Apple sees it as a potential acquisition target. Apple, which has come under pressure from shareholders to do something with the $50bn war-chest it saved over the recession, is also reportedly thinking about buying Adobe (which CEO Steve Jobs has been feuding with for quite some time. If you can't beat 'em, take 'em over, we suppose.) and, er, Disney. Although we can't help but think Cinderella branding would rather ruin the original idea of Jonathan Ives' minimalist designs.