Sorrell: Claims about US eavesdropping will damage 'brand America'
The WPP chief has warned the US is sullying its reputation. As the CEO of the world's largest ad group, he should know.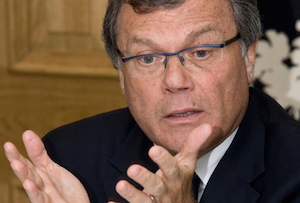 WPP chief Sir Martin Sorrell has suggested claims about US eavesdropping are damaging the country's reputation and could hinder advertising companies, as consumers become less confident in sharing their private details.

Leaks by former National Security Agency analyst Edward Snowden have triggered a drop in trust which could damage industries that rely on data analysis, he warned.

'There was always concern about privacy before the NSA. If there was concern before there will be more concern [now]. On balance it doesn't help,' said Sir Martin.

Any damage being done to the advertising industry certainly isn't coming through on WPP's books yet. Sorrell's comments came as his colossal marketing group announced a 5% increase in like-for-like revenue to £2.7bn for the three months to the end of September.

WPP Western Europe's operations showed the first signs of recovery, growing by 2.6% to £589m – following two consecutive quarters of contraction. Britain's recovery got a nod, as sales in the UK were up by 8.1% to £352m.

'It might not be fast-growing... it might not be that retailers are showing it yet, but it's doing significantly better,' said a pragmatic Sorrell.

The advertising titan spoke of his concerns over the ongoing standoff in the US government. North America is WPP's biggest market and any economic backlash from the standoff on Capitol Hill is likely to impact on its margins.

'That's the biggest fear our clients have… people are not going to invest. They're not going to hire people in advance of that. They can't be certain in an uncertain environment,' he warned of the situation.

For now, however, the advertising magnate can relax. WPP's results were a pleasant surprise to analysts, beating expectations. His share price, as a result, has shot up by 10.5% to £13.23. WPPs performance has beaten that of both its bitter rivals, Publicis and Omnicom, and while their merger is currently being hammered out, analysts expect WPP could win some of their big clients when it finally comes to bear. Surely that's worthy of a smile...