Sorrell's £21m pay leap
WPP boss Sir Martin Sorrell trousered £21m last year, thanks to his aptly-named LEAP incentive plan.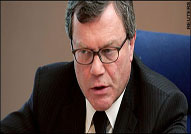 Under the firm's Leadership Equity Acquisition Programme (geddit?), the boss of the world's second-largest ad agency was awarded a performance-based allocation of 2.95m shares, worth a cool £18.4m at the current share price. And that was on top of his £3.5m salary and cash bonus. It certainly pays to advertise.

Sir Martin - famous for having one of the most complicated remuneration packages around – was a pioneer of this type of equity deal, and made headlines back in 2005 when he was awarded £50m of shares from a similar programme.

But although this is a lot of money by anyone's standards, it's hard to argue that he hasn't earned it. WPP's revenues and profits were up year on year in 2007, and both billings and gross margins are looking pretty good so far this year despite the chill wind of economic uncertainty. Sorrell may be a fat cat, but he's still catching the mice. Unlike some of those very highly paid bankers we could mention…

WPP's FD Paul Richardson also enjoyed the fruits of his own LEAP, to the tune of a rather more modest half a million quid (on top of salary and bonus worth £1.6m).

Whether any of this will make Sorrell more likely to stump up more cash for his TNS bid remains to be seen. It's certainly extremely unlikely to make him any less vocal a lobbyist against proposed tax changes to make UK domiciled companies liable for UK tax on profits made overseas. Some 85% of the revenues that pay his generous salary are generated beyond our shores...