Sorry seems to be the hardest word
Getting an apology wrong does more damage than not giving one at all. But both individuals and companies benefit from a culture in which people are allowed to own up to their mistakes.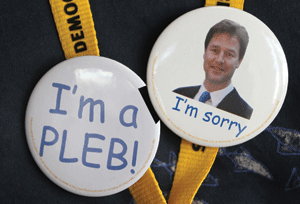 In September 2012, Nick Clegg broadcast an apology for ditching the Lib Dems' opposition to increasing university tuition fees. He was hoping for forgiveness, of course.
Instead, he was met with reignited anger over the policy U-turn and scorn - a hilarious Auto-Tuned remix of the speech on YouTube has been viewed more than 2.5 million times. Not to be outdone, David Cameron followed suit by apologising for February's extreme flooding.
No doubt it seemed a good idea at the time to Clegg: a frank, straight-to-camera mea culpa filmed in his home, then move on quickly with the issue put to bed. So why didn't it work?