Sotheby's - Going, going....gone?
What will happen to the world's fourth-oldest auction house now Dan Loeb is on board?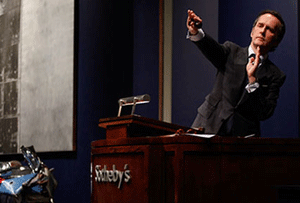 Formative years
In March 1744, a London bookseller named Samuel Baker held his first auction in Covent Garden, and the business that would become Sotheby's was founded.
In 1823, it sold Napoleon's library from his exile on Saint Helena, but it wasn't until the early 20th century that Sotheby's moved into fine art, selling a painting by Frans Hals for 9,000 guineas in 1913.
Thus began its historic rivalry (some would say duopoly) with swanky London neighbour Christie's, both battling for the privilege of easing the cash flow of hard-up aristos. 'Christie's is a firm of gentlemen trying to be auctioneers; Sotheby's is a firm of auctioneers trying to be gentlemen' went the old gag.