South Africa: a bellwether for the continent?
Since the end of apartheid, South Africa has won a well-deserved reputation for good corporate governance and has reaped the benefits in terms of foreign investment. But Africa as a whole is receiving less foreign direct investment than ever: in 2003, the continent received just 3% of the world's foreign investments.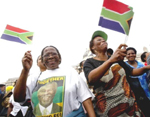 There is a strong foundation for South Africa's corporate governance to grow further and become a beacon for the rest of the continent. In 1994, The King Report, produced by the Institute of Directors in South Africa, identified seven key areas of governance: discipline, transparency, independence, accountability, responsibility, fairness and social responsibility.
It encourages change through espousing principles but has no force of law behind it. Four years later, the Insider Trading Act enabled the Financial Services Board to take more forceful action against illegal transactions. In 1995, the Johannesburg Stock Exchange (JSE) made it compulsory that listed companies disclose the extent to which they had complied with the recommendations of The King Report.
South Africa could regulate private funding of political parties to prevent corruption scandals involving company donations to political parties, and South African boards should increase the number of independent directors. South African companies typically have closed structures (many are family or state-owned). The next big challenge is for them to become more transparent.
Corporate Governance in South Africa: a bellwether for the continent?, Melinda Vaughn and Lori Verstegen Ryan, Corporate Governance, Vol 14 No 5, September 2006