South East takes London's property 'boom-town crown'
London may have finally reached peak property. Anyone for Luton...?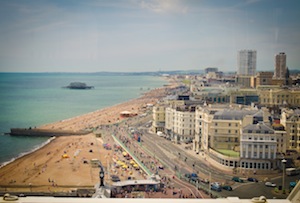 Hold your breath: London house prices may no longer be soaring ahead of the rest of the country with all the control of a runaway train. But the capital's tentacles are still spreading, as prospective buyers turn their attention further afield to commuter country.

Property prices in Greater London rose 9.6% in the year to October, according to Rightmove's monthly house price index, with the average price now a wallet-aching £596,692. Not exactly cold as ice, but a shade below the 10% year-on-year growth in the South East, where the average property now sells for £355,874.

The changeover could just be a blip – after all prices rose 7% in London in the last month compared to 2.2% in the South East, according to the research. But, despite the mixed bag that is property price surveys, the consensus seems to be that growth in the capital is levelling off as affordability finally reaches something of a limit and buyers worry about impending interest rate rises.

'The ripple effect of buyers priced out of London combined with those cashing in and moving out of the capital means that the South East has taken London's boom-town crown,' said Rightmove director Miles Shipside.

'Upwards price pressure is being further fuelled by a reluctance of home owners in the hotspots of the South East to come to market.'

Translation: south easterners aren't in a hurry to sell their homes. The South East was actually the region with the lowest growth in properties being put on the market, as homeowners hope to benefit from what Rightmove and Oxford Economics predict will be a 37% surge in prices over the next five years. That's ahead of a 33% rise in London and a 30% increase nationwide.

The most lucrative nest eggs are apparently in Southampton, Brighton and Luton (seen by many Londoners as being in that distant wilderness known as 'The North', given its location in deepest, darkest Bedfordshire), where prices are forecast to rise 40% by 2019.

Nationally, the housing market looks like it's cooling off somewhat too. The average asking price rose 2.6% to £271,669 in October, the lowest rise for the month in six years. Meanwhile, prices fell during the month in the North, Yorks & Humber and East Anglia. The gravitational pull of London is strong – but not that strong.