South West Trains blasted after 'rails got too hot'
It is a favourite pastime of commuters to bemoan the train service. But on Monday, sweaty commuters ran out of patience as a touch of summer weather threw one of Europe's busiest networks into chaos.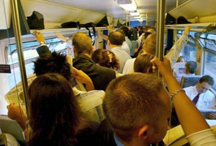 Major London rail operator South West Trains was unreservedly lambasted by the public and media on Monday, after temperatures of a (let's face it, even by UK standards, unremarkable) 25 degrees caused buckling in the tracks and meant speed restrictions were put in place. It threw the whole network into chaos, with delays left, right and centre, not to mention packed trains and thousands of sweaty commuters.
It's worth noting that there is no air conditioning on a major portion of South West Trains' (owned by Stagecoach Group) fleet, because the carriages are old rolling stock from the 1980s. But despite the suffering of thousands of commuters in the sweltering heat, a spokesman for the firm said insisted that only 2% of its timetable was affected. We suspect some of the thousands of people trying to get home after work yesterday would dispute that figure.
The spokesman said, without a hint of irony: 'The ageing condition of our infrastructure has meant that despite the preparation work that has taken place, we have had to impose speed restrictions.' He said that the tracks had reached 50 degrees centigrade over the weekend causing flexing of the metal, and that hydraulic machines had been used to artificially stress the metal and minimise the damage.'