Southern struggles to contain passenger fury after cancelling another 350 services
How can the beleaguered train franchise, a subsidiary of Go-Ahead, restore its credibility?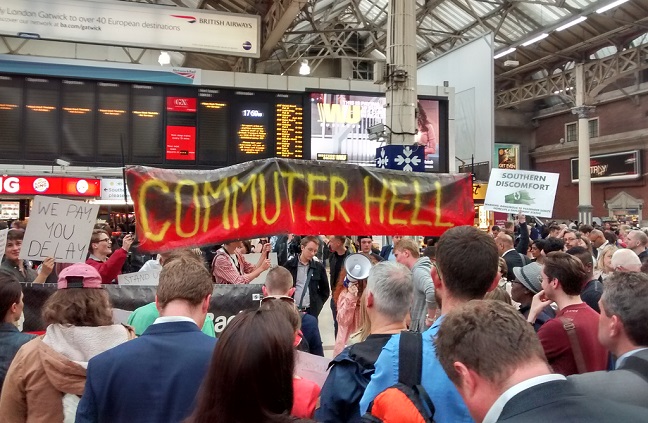 The inhabitants of London's commuter towns are generally a mild mannered bunch, so if they're getting shouty and boisterous you know they must be pretty peed off. That's exactly what happened at the capital's Victoria Station last night as protesters gathered to demonstrate against the service, which is a subsidiary of Go Ahead's Govia Thameslink franchise and runs trains to Sussex and Hampshire.
At 5:30 PM as the city's commuters prepared to board packed trains out to the suburbs, protesters unfurled a scarlet and black banner welcoming them to 'commuter hell,' drawing a crowd of dozens. 'What do we want? More trains! When do we want them? On time!,' they chanted. Speakers took it in turns to berate Southern, claiming its poor service was denying them a home life and making it harder to hold down a job in the city. 'Sack the greedy controller,' read one sign, '#SouthernFail,' another.
The demonstration was brought on by Southern's decision to introduce a new timetable with around 350 fewer services per day (leaving some stations without any trains at all), but is the culmination of years of commuter antipathy. As Peter Hendy, London's former transport commissioner bluntly told MT last year, most of the city's commuter trains are 'shit'.