Space: the fiscal frontier?
The UK space sector's turnover now stands at £7.5bn a year - and it's rising, Jim...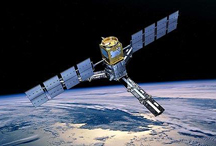 UK space companies seem to be above the concerns of their Earth-bound cousins, growing by an average of 10% a year from 2007, despite the gravity of the recession.
And employment in the sector has been going up around 15% a year too. Compared to everywhere else at the minute, that's like being strapped to the side of a shuttle and given 400,000 pounds of thrust.
Of course, it's not all spacewalks and rounds of moon-golf. The best performing areas are more down-to-earth services like satellite broadcasting, telecoms and sat-navs (known collectively as downstream activities). But even the weaker upstream work, like satellite manufacturing, was healthy – recording annual growth of 3% from 2006/7 to 2008/9.