Spam leaves bitter taste
We've all received the occasional email from a wealthy Nigerian businessman who's promising to transfer us 10m quid if we'll only hand over our bank details – and probably wondered how anyone could fall for it. But the scary news is that email spammers could be getting smarter...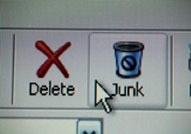 An 80-year old widow from Bridgend in Wales was conned into handing over £16,000 by dastardly spammers, according to the BBC. Apparently they wrote to the woman telling her that she was the only surviving relative of a wealthy German businessman killed in the Concorde crash, and was therefore entitled to a $30m inheritance. Over the course of their exchange, they persuaded her to shell out up to £16,000 in pre-payments – and it was only when they asked her to remortgage her house to raise another £10,000 that the alarm was raised.
The set-up may not have been particularly clever in itself – for instance, the victim was told that the crash happened in Germany, when it actually happened in Paris – but this was still a cut above most of these phishing efforts. For a start it was actually written properly, rather than in broken English on a computer where the Caps Lock appears to be broken. It was certainly official-looking enough to fool someone who had seen the odd Nigerian spam email before.
As PC Steve Carpenter told the Beeb: 'She's 80-years-old but was quite internet aware, aware of junk mail but this one was quite well written, well presented and got her attention'.