Spare room spur
A new study discovers that the last year has seen lots of people launch new businesses from home...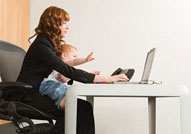 There's been a 16% rise in the number of home businesses in the last year, according to a study by BT and Enterprise Nation – there are now 2.5m companies being run out of spare rooms and garages around the country, accounting for more than half of all the 4.7m UK SMEs. Could it be that all this economic uncertainty is encouraging us to try and take back control of our working lives – and thus bringing out the hidden entrepreneur in all of us?
These business owners certainly don't seem intimidated by the current climate. 72% are expecting to attract new customers in the next six months, while two-thirds are planning to increase turnover (presumably that means 6% are going to be giving stuff away for free, which is either very brave or very stupid). What's more, 58% are planning to launch new products and services, despite the distinct possibility that we're heading for a nasty recession. All of which suggests that they've either got the resilience of true entrepreneurs, or they don't really understand the extent of the problem…
It's noticeable that a third of these businesses are being run in the owner's spare time, i.e. in the evenings and at weekends. This is partly because it's a low-risk way of dipping a toe in the water, but it could also be a sign that we're feeling a little less secure in our jobs, so we want something to fall back on. But either way, it's good news that more people are deciding to get creative and take the plunge.