How to Speak Money: high finance demystified
With a novelist's care for language, this author unpicks the weasel words of business and economics - and has fun while he does so, says Stefan Stern.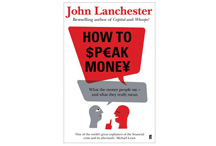 It is now more than six years since the fall of Lehman Brothers and the subsequent near-death experience of the global financial network. A few things became clear in the aftermath. The banking and financial system was out of control. Economies were vulnerable to the mad actions of a few greedy and wildly ambitious people. Individuals, even those living in democracies, were powerless to resist. And something had to be done about all this to ensure nothing like it could happen again.
Right. Why has so little changed? One of the reasons, apart from sheer political stasis and inertia, may be something to do with the at times mysterious language of finance and economics. How can you try to control a world so full of jargon and obscure algorithmic calculation? Who can move fast enough to regulate a high- frequency trader?
The novelist John Lanchester has turned his inquisitive and imaginative mind to these questions and produced a delightful book: a primer and lexicon for those seeking to understand this resolutely impenetrable world of money, finance and economics.