Special Report: Inside China - The jewel in the crown
With the handover to China, Hong Kong's prospects looked grim - but its historical strengths have kept it on top.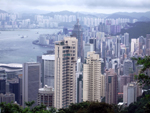 A 1995 article in Fortune magazine painted a bleak future for Hong Kong. The handover was looming, China looked threatening, the Asian economy was a bubble waiting to burst. "I think that Hong Kong, perhaps a lot sooner than many people expect, will become just another city in China," predicted an investment adviser. Eleven years on, the outlook could not be more different. Sure, Hong Kong has weathered a few storms - the Asian financial crisis, 9/11 and the slump in air traffic, Sars - and it is facing stiff competition from booming mainland cities such as Shanghai, but, generally, the future looks bright.
Tony Tyler, Cathay Pacific's COO, recalls: "In the mid-90s, when property prices and inflation peaked in Hong Kong, Cathay Pacific moved various parts of its operation out of Hong Kong to trim its costs. However, deflation over the past eight years has made Hong Kong a much more cost-competitive city."
The economy is still the stalwart of south-east Asia. Its growth rates (7.3% in 2005, projected 6% for 2006) are the envy of the Western world. Its GDP - $163 billion - dwarfs that of its most immediate competitors (Shanghai's GDP is $90 billion and Beijing's $51.8 billion) and its stock exchange is now the seventh largest in the world. All this with a population of 9 million people in a city two-thirds the size of London. Those who predicted Hong Kong's demise and Shanghai's rise to power are eating their words. "The truth is that Hong Kong is still the jewel in China's crown and the rest of China is looking to emulate what is happening in Hong Kong," says Philip Tissot, trade commissioner at the British Consulate General in Hong Kong.