Spin masters: How PR is taking over the world
There are now four PRs for every journalist working in the global media industry. These 'public relations executives' enjoy more influence than ever before. The question is, how will these powerful spin masters shape the future of corporate communications?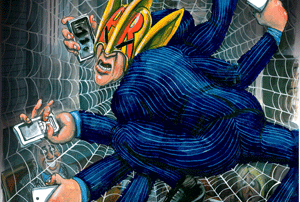 One afternoon last November, at the height of the Lord McAlpine drama, Tim Bell was sitting alone in his small office on the fifth floor of a modern building in Mayfair, central London. As the 71 year-old puffed on cigarettes, he took calls from journalists and lawyers on behalf of his old friend, wondering who to sue and who to leave alone. It's not a glamorous office. There's a computer, a TV tuned to BBC news, a bookshelf and an ashtray with a pack of B&H beside it. Not the office you'd expect to be housing an individual who was once the most powerful PR man in the country, the man who masterminded Margaret Thatcher's press campaigns during her three successful general elections. Or, more recently, who has advised the governments of Saudi Arabia, Iraq and Belarus.
Although the McAlpine story played out on Twitter, there was something deliciously old-fashioned about the scene: the well-connected PR man righting wrongs, making mischief and settling scores. Bell is old school par excellence. The world of social networking was decades away when he was in his pomp, but his skills are evidently still much in demand. 'It's a very transparent world,' he says. 'I liken transparency to opening Pandora's box. There is no guarantee that what comes out is good and fun to read. Much of it is horrible and vile and not true.'
Tapping his cigarette on the ashtray, he adds: 'Twitter is a sewer. The internet is a sewer. If you want to live in a transparent world then someone has to give the information about you. If you don't want someone else to, you have to do it yourself. That's what PR people do.'