The spirit of Christmas bribery
Corporate Christmas gifts may fall victim to the new Corruption Bill. Is nothing sacred?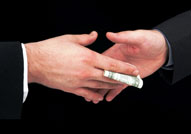 Giving a customer an excessive Christmas gift could leave you open to criminal charges of bribery and corruption once the new law is passed, according to advisory firm PwC. Ahead of the long-awaited Corruption Bill, its Forensic Services division has been casting a beady eye over the recommendations of the Law Commission that 'facilitation payments' should be viewed like any other bribe. You'd probably recoil in horror from the ideas of using brown envelopes and backhanders to secure a deal – but the danger is that sending a case of wine or a pair of tickets to the football to your best client may be seen in the same light…
PwC has drawn up a list of Christmas gifts and divided them into acceptable/ dubious/ unacceptable under the new regulations. And the worrying thing is that none of them look particularly dodgy. Gifts won't be illegal per se, of course – so things like calendars or mouse mats or branded merchandise will still be fine. But you're getting into murkier waters if you give them any alcohol 'above a bottle of wine', tickets to overseas events, or 'expensive gifts such as gold fountain pens'. And you could find yourself in really hot water if you send over a Christmas hamper or a case of champagne. Even sending gifts to someone's home address may see you hauled before the beak.
The principle behind all this is very sensible, of course, because bribery and corruption is still a big part of global trade. The UK is among the better-behaved – according to Transparency International's recent Bribe Payer Index, we've just risen from 6th to joint 5th in the international rankings – but it's apparently still an endemic problem in some countries, with Russia, China, Mexico and India occupying the bottom four places in the index. And since bribes can often be disguised as 'gifts', it makes sense to try and close this loophole as far as possible.