A spoonful of Sugar for Woolies
Big news for that venerable but ailing British institution Woolworths: Sir Alan has bought a 4% stake...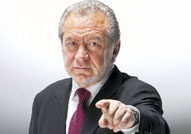 It's not been easy to find a modicum of cheer this morning. But here at MT we reckon that Sir Alan Sugar's acquisition of a stake in Woolworths counts as good news. A stock market statement this morning revealed he's picked up a 3.88% stake, although there's been no word as to his intentions yet. It's been a pretty miserable few years for Woolies, the former darling of the UK high street. But if TV star and occasional businessman Sir Alan sees value in it, perhaps there's hope for it – and us – yet?
Admittedly Woolies shares have now got so cheap that they're almost giving them away – you can buy a basket of them for less than a bag of cola cubes these days. Yesterday they rallied 5% (possibly due to rumours of the deal), and closed at the dizzy heights of 3.14p. Even by recent standards, this has been a rotten year for the stock – it's lost 80% of its value, most recently thanks to reports that credit insurers were refusing to cover its suppliers (presumably because they had so little confidence in the retailer staying afloat). And this week's turmoil across the market hasn't helped. So it's no wonder the Telegraph describes this deal as 'bottom fishing'…
To be honest, we're not entirely sure what Sir Alan sees in Woolies. The chain has been struggling for years, and recent results have left us in no doubt about just how bad things have got – it lost nearly £100m in the first half of its current financial year. Of course, there's still a chance that its 'value offering' (i.e. cheap stuff) will come into its own if we do end up in a painful recession – and once new CEO Steve Johnson finishes his turnaround plan, the chain should be a lot leaner and meaner. But it's a little hard to see it recapturing its former glory.