Sports Direct boss Mike Ashley chases £40m bonus
Sports Direct is attempting to reintroduce a controversial bonus scheme that would see Ashley pocket a cool £40m. This, despite shareholders voting down a similar proposal just three months ago.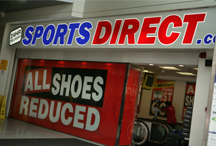 MT has managed to get its hot little hands on Mike Ashley's Christmas list this year. It reads: Newcastle United boxer shorts, a new squash racket, the latest Howard Hughes biography, oh, and a £40m bonus, please.
Sports Direct has altered its original bonus proposal, the one voted down back in September, adding a few extra goals and objectives - more hoops to jump through - in order for Ashley to receive his cash. If the Sports Direct founder (and 70% shareholder) keeps his end up for the next three years, the cash will land in 2018.
The pressure is now on CEO Dave Forsey to persuade shareholders to play ball. 'The board remains committed to implementing a scheme to recognise the ongoing substantial and essential contribution of Mike Ashley,' he says in a statement today. In other words, Ashley means to get his moolah.