Sports Direct is under fire over working conditions (again)
More than 70 ambulances were called to the retailer's HQ in two years.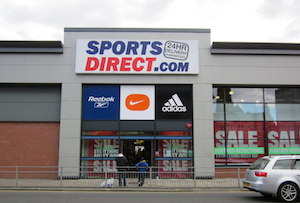 The reclusive billionaire Mike Ashley may be one of Britain's wealthiest people, but he's not been having the best time of things lately. His football team Newcastle United is languishing at the bottom of the Premier League after scoring just three points in eight games. And now working conditions at the headquarters of his Sports Direct chain are under fire yet again.
An investigation by the BBC found that 76 ambulances were called to the site in just two years, including 36 for cases that were classed as 'life-threatening'. That doesn't look good, especially after a Channel 4 Dispatches documentary revealed the firm's workers, many of whom are employed on by agencies and on zero-hours contracts, could be dismissed for taking too many sick days.
To be fair to Sports Direct, it's important to put this figure into context. There are more than 5,000 workers at its base in Shirebrook, Derbyshire. That means there was an equivalent of one ambulance call per 131 people each year, and even more when you factor in staff turnover. Six of the ambulances were for car crashes on a road or car park next to the site and one was for a dog bite.