Has Sports Direct grown too big for Mike Ashley to handle?
The reclusive billionaire spilled his guts in front of MPs today, admitting he 'can't control everything all the time.'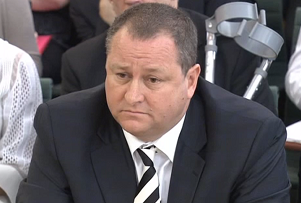 MT toddled along to this morning's business select committee to get a glimpse of what City hacks have been waiting years for – Sports Direct boss Mike Ashley getting a public grilling. The famously shy billionaire entrepreneur has avoided media interviews for years and dragged his feet before attending the hearing. The 90 or so minutes he spent responding to the MPs is surely more than the total time he has spent appearing on camera ever.
Ashley was fortunate in that he didn't have a tough act to follow. The representatives of Transline and Best Connection, agencies that supply his company with staff, were left totally stumped by several questions. But it has to be said his performance was much better than many would have expected. Yes he was candid, admitting the company had got many things wrong and that he wasn't aware of a lot of its goings on. And he lost his cool on a couple of occasions, one time accusing Sheffield MP Paul Blomfield of 'word games' and 'being unfair'.
But he at least came across as human. His table-thumping, blame-taking confessions were a breath of fresh air compared to most of the robotic corporate bosses that normally find themselves in front of a select committee. There were few whispers from his entourage and Ashley made an effort to answer pretty much every question, even when his PR man Keith Bishop advised against responding to a question on his apparent interest in buying BHS – 'I can't resist it,' he said, 'yes 100%.'