Sports Direct scores bumper profits but shares fall 9%
Mike Ashley's sportswear empire delivered another surge in profits today, but its stock dropped on the news.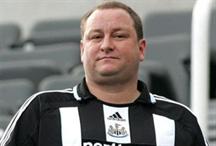 Rising online sales helped boost first-half profit at the budget sports retailer by 17%, but it wasn't enough to win over investors as shares were down more than 9% in mid-morning trading.

Retail revenues at Sports Direct increased 13.4% to £903.3m in the first half of 2013, driven by online growth of 43% to £158m, accounting for 15% of total sales. Sports Direct International, which is controlled by Newcastle United owner Mike Ashley, said the 17% rise in pre-tax profits to £146.2m reinforced the company's position as 'the consumer champion'.

This was below analyst expectations, however, as losses in the smaller premium lifestyle unit increased to £11.8m due to restructuring costs and losses related to the group's acquisition of Republic in February. However, Sports Direct says it expects to overcome this in the second half of the year.

The company, which has 400 stores in the UK and another 200 across Europe, says much of its success is down to the positive impact of a lucrative bonus scheme, which recently rewarded around 2,000 staff with shares worth more than £68,000. After 'record breaking' results announced back in July, staff had access to a shared £140m bonus pot after the Olympics and the Uefa European Championships boosted profits at the chain by 40%.
Sports Direct says it is now on the hunt for more stores in Europe, and is looking into stakes in an Austrian and a Baltic retailer to increase its international presence from the 19 European countries it currently operates in.

In September a 70% surge in its share price saw Sports Direct enter the FTSE 100 for the first time.

Shares are currently trading at 702p, an 88% increase on a year ago when the stock was trading at 409p. Score.