Sports Direct's conquest of the high street marches on
Even the warm autumn, a bad bet on Tesco and a lacklustre World Cup weren't enough to hold back Mike Ashley's empire, as profits rose 9.8%.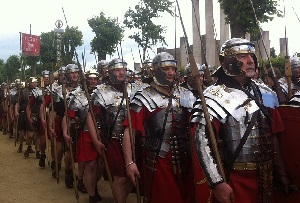 The inexorable rise of Sports Direct continues. Thanks to the tireless toil of legions of zero-hour 'colleagues', the bargain sporting goods store returned imperious first half results today. Revenues rose 6.5% to £1.4bn in the 26 weeks to October 26th, while underling pre-tax profits grew 9.8% to £160.6m.
Its results don't include same store sales, effectively allowing new shops to disguise potentially worse performances from older ones. But they do indicate that the core Sports Direct retail business increased revenues 8.3% to £1.2bn, of which £176m was in the increasingly important online sector - a rise of 11.1%.
That all might seem pretty decent to most people, but it's apparently not enough for owner Mike 'Caesar' Ashley or his lieutenants. Chief executive Dave Forsey said the results were merely 'solid', given England's early exit from the World Cup (think of the tragic waste of all those unsold Rooney shirts) and the muggy, footfall-reducing autumn.