Spunky! Britain agrees £45m deal to ship pig semen to China
The British (pigs) are coming, as Cameron's trade visit to China reaches its climax.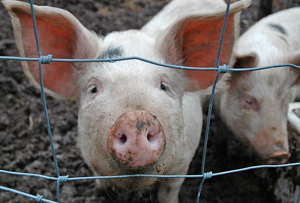 Britain is getting on top in the global race, as Cameron agreed a deal to export £45m worth of pig semen to China during his three day visit to the country.
The porcine spendings can be used to breed better pork in China, which has half of the world's pigs. Exports are due to start next spring, according to the Telegraph.
A Downing Street spokesperson said: 'We're doing all we can to ensure that businesses up and down the country reap the rewards from our relationship with China. And that includes our pig farmers,' he/she said. Sounds like a pretty special relationship to MT.