How to square up to uncertainty as a leader
Facing a complex, ambiguous situation? Don't leave it to others to make a decision. Here's how to take the lead.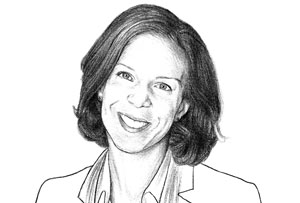 Last month, Mark Carney examined the many facts in front of him and made a judgement call - the Bank of England would not, after all, be raising interest rates. A central reason was the continuing uncertainty in global markets. Because, despite the vast array of information now available to us: the numbers, analysis, data sets, algorithms, opinion polls, and research papers accessible online, one thing humans have still not eradicated is uncertainty.
This can be hard to swallow. We're so used to having the facts at our fingertips via our smartphones that it's tempting to fall for the (impossible) promise of perfect info leading to perfect decisions.
What has this got to do with you? A lot. Because in any job, as you push against its boundaries and continue to stretch yourself, you will come up against uncertainty. You'll find yourself in situations where you're no longer the subject area expert, yet are still expected to take the lead. Expanding responsibilities will eat up time you once used to brief yourself thoroughly for every meeting. Your growing knowledge and experience will render old certainties invalid as you grasp the wider complexities at play.