St Albans clobbered by the taxman
The residents of St Albans in Hertfordshire pay twice as much income tax as the national average...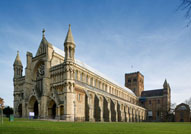 St Albans is the UK taxman's biggest cash cow, according to a new study compiled by UHY Hacker Young. The accountancy obtained figures from HM Revenue & Customs to map the levels of tax paid by different towns and cities across the country – and St Albans was far and away the highest contributor to the Treasury's coffers. Its average income tax bill of £10,500 tax per head was more than twice the national average of £4,333, and over four times as much as last-placed Hull – whose less fortunate residents pay an average £2,360.

The top 10 is dominated by commuter towns, as you'd expect, with all but one to be found in South-East England (the only exception is Macclesfield in Cheshire, where the figure is probably boosted by all the Premiership footballers that call it home). Thousands of people use St Albans as their base to trek into London every day, which has pushed the city's average income up to an impressive £43,500 – almost £20,000 higher than the national average of £24,292. By contrast, Hull residents apparently earn an average salary of £17,300 (although the local council leader reckons this is only because these figures don't include the city's more prosperous suburbs).

Still, we're not sure St Albans will be boasting about its status as the UK's most-taxed city – even if this influx of wealthy commuters has boosted house prices and encouraged several big companies to set up shop there. And if you're one of said commuters, you might also share UHY Hacker Young's indignation that the Government has failed to raise tax thresholds in line with inflation – pushing more of the middle-class into the top tax band. 'This is a way of the Government bringing in tax increases via the back door,' it harrumphs.

One firm that's definitely not based in St Albans, however, is internet giant Google. According to a Sunday Times study by Richard Murphy, from lobbying group Tax Research, Google managed to avoid almost £100m in UK taxes last year by channelling revenues through a subsidiary in Ireland, where corporation tax rates are much lower (12.5% compared to 28%). Murphy says that despite making about £1.25bn in revenue in the UK last year, Google only paid the Exchequer about £600,000 in corporation tax here (he also claims it dodged some tax in Ireland by running that subsidiary via a holding company in tax haven Bermuda).

For its part, Google has denied any impropriety – and as always, we should stress that this kind of thing isn't actually illegal. However, if this is true, it would be rather embarrassing for the Government, which has always waxed lyrical about the company. And let's face it: the Treasury needs every £100m it can get at the moment. Thank goodness for St Albans.


In today's bulletin:
Darling Budget boost as economists see green shoots
St Albans clobbered by the taxman
Brown mulls £1bn tech Nesta egg
Using your loaf to woo customers
Foundation looks to boost skills of charity bosses