Stagflation: the millions in pre-nup bashes
With a million Brits spending around £300m on stag and hen events this year, a host of operators has sprung up to service the needs of those who are too inebriated to do it themselves. And, with the inevitable pressure for each bash to outdo the last, business is booming.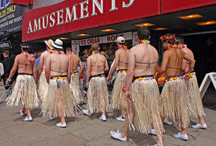 A stag night used to be a dignified affair. Well nearly. Even 15 years ago it followed a simple template: settle in at the local with your friends and your dad, sink far too many pints, and perhaps engage the modest services of the local stripper before heading to the chippy and finally staggering home. Back then, the only bullets you'd dodge would be those of your future spouse if you turned up late to the church the next day. These days it's different: you may find yourself ducking fire from a Kalashnikov rifle as your fellow stags let off a few drunken rounds in some Latvian no man's land.
Welcome to the modern stag do (the word 'night' is no longer valid, given they can last a week). If post-Soviet military fantasies don't grab you, there's a host of other activities to choose from: how about being picked up from the airport in a booze-filled coach complete with lap dancing? Or a relatively sedate tour of Irish bars in eastern Europe's ancient city centres?
The Foreign Office estimates that one million Brits will head overseas this year for stag or hen parties, while a recent survey by Teletext Holidays concluded that the total expenditure at home and abroad will come to around £300m. The Stag Company, the UK's largest stag and hen organiser, has built a business aggregating third-party offerings such as flights, activities and hotels in choice locations such as Barcelona, Cracow and current stag fave Riga. Managing director Rob Hill reckons it will make a cool £7.5m this year, with the average punter splashing £150 on his or her 'experience' and big spenders topping £1,000 per head.