Do stakeholders care about sustainability?
It is commonly observed that companies are under "ever-mounting pressure" to meet a range of social and environmental objectives as well as satisfy their shareholders. But according to the latest research from the IMD Business School, reports of a new era of corporate sustainability have been exaggerated.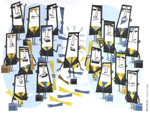 Four years ago IMD asked 1,500 managers in nine industry sectors whether they felt there was a business case for sustainability. The answers they received surprised some people. "Many of our respondents complained about a weak and rather elusive business case due to external stakeholders' significant disinterest or even opposition to corporate sustainability," explains IMD's professor Ulrich Steger.
To validate their findings IMD surveyed the stakeholders themselves. After analysing 265 interviews and 370 questionnaires, Steger and his team claim to be able to shed more light on how nine different stakeholders, including financial institutions, governments, communities, unions, NGOs and the media, perceive and influence corporate sustainability.
And it seems that things have changed little over the last four years. "Overall, stakeholders exhibit significant disinterest in corporate sustainability," Steger says. "They are primarily concerned about companies' financial performance and competitiveness in today's global markets."
This is due to a significant imbalance of power between different groups of stakeholders, explains Steger. "Customers and shareholders are still calling the shots and are generally not exerting much pressure on corporate social and environmental agendas beyond compliance. Given these circumstances, NGOs - as the most demanding stakeholder group - find it difficult to get the necessary buy-in from other stakeholders for their campaigns. The result is largely incremental social and environmental progress in companies."
In the light of companies' significant bargaining power, it is not surprising that stakeholders such as governments, communities and unions tend to adopt a collaborative approach to influence them, according to Steger.
Many NGOs have also attempted to move beyond their traditional advocacy stance, taking part in stakeholder dialogues and in some cases forming partnerships with the corporate sector. But this approach is highly controversial in the NGO sector and can allow companies to operate in a relative comfort zone surrounding by plenty of carrots but a distinct absence of sticks, Steger says.
Many of the stakeholders interviewed for the survey expressed concern over a perceived non-level playing field between firms operating in different parts of the world. Europe, for example, has high social and environmental standards, but this cannot be said of developing countries and emerging economies. One interviewee commented: "It will be interesting to see what is done about China; there is pressure on jobs in Europe. Ultimately, social and environmental criteria may even be used as a trade barrier with quotas and claims of low labour standards and low environmental standards. There is already some noise being made. This is likely to be more significant in the future."
But while companies need not worry about increasing pressure right now, things could change. "It would be dangerous to be complacent," says Steger. "After all, one of the few 'iron laws' is that to maintain power, one has to use it responsibly."
Source: IMD
Professor Ulrich Steger
Review by: Nick Loney