Starbucks to pay for its workers to get college degrees
The coffee chain says it's launching the programme in the US because the country is in a 'situation where many Americans are being left behind'.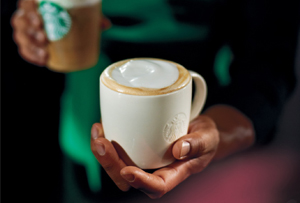 Is 'caring and sharing' a new trend for US companies? Starbucks has announced plans to pay for all its staff (or all those working over 20 hours a week and without a degree, anyway) to go back to college. Workers (baristas, obviously, but also those working in offices and distribution centres) can choose from more than 40 of Arizona State University's undergraduate courses, ranging from electrical engineering to education, and Starbucks will foot the bill. What's not to like?

Alright, so admittedly the courses are online – ie. workers won't be taking any time out to study – but even ASU's online courses cost between $3,000 and $10,000 (£1,760 and £5,880), which is a lot if you're only earning $9 an hour. Those in their junior or senior (third or fourth) years will get full reimbursement, while freshmen or sophomores (yep – first or second) are eligible for a 'partial tuition scholarship and need-based financial aid'.

Now obviously, Starbucks is by no means the first company to offer on-the-job training. In the UK, law firms, for example, pay for two or three years of education for trainees. But the difference is that at Starbucks, there's no need for workers to stay on after they finish their degrees. So the only thing in it for Starbucks, presumably, is that their workers are compelled to stay put for the full four years of their degree.

Chief exec Howard Schultz came over all Thomas Piketty on us when he launched the scheme.

'In the last few years, we have seen the fracturing of the American Dream. There's no doubt, the inequality within the country has created a situation where many Americans are being left behind. The question for all of us is, should we accept that, or should we try and do something about it.'
(Although you could argue that nothing promotes equality like paying tax - and Starbucks is currently under investigation by the EC over 'special tax arrangements' it may or may not have entered into with the Irish government.).

What'll be interesting is how many employees actually take up the offer. In 2010, Wal-Mart rolled out a similar scheme, and so far just 400-odd workers have completed degrees. To be fair, those who started their degrees from the beginning will only graduate this summer. But considering Wal-Mart has 1.4 million employees in the US, that's a surprisingly small number.