Starry Sky outshines the rest
Our youngest ever winner, BSkyB has defied the troubles besetting its industry and the wider economy...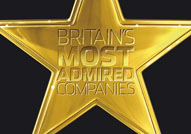 It has been a year of surprises for UK plc, by no means all of them good. At the end of last year's Most Admired feature, we expressed the fervent hope that by the time it came to pen this year's write-up, the recession would be over. It's now clear that we hoped in vain; things may not be getting worse anything like as rapidly as they were, but unemployment and the national debt continue to rise alarmingly. Recovery - for the UK at least - still seems to be a way off.
[CLICK HERE TO VIEW THIS FEATURE AS A PDF]
And yet, for all the doom and gloom, there have been bright spots visible for those with the eyes to see them: those businesses with the chutzpah to regard this downturn as an opportunity as much as a threat. Rather than battening down the hatches and waiting for the worst to pass, they don their heavy-weather gear and venture out to face down the storm.