Start-up of the month: Ginjex
Digital entrepreneur Farhad Koodoruth is back with his latest start-up of the month: real-time directory Ginjex. And this time, he's put his money where his mouth is.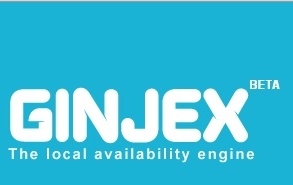 What is Ginjex?

Ginjex is a new way for merchants to list their location and availability in real time. Think of it as a new type of online directory: Yell for the 'now generation'. It is ideal for small businesses, freelancers and part time workers to fill quiet spots. For professionals such as dentists and removal firms it can help fill last minute cancellations. Ginjex call it 'turning your taxi light on' . For us consumers, it means we can find a physio or handyman who is free right now, possibly with last-minute offers.

How did you hear about it?

I was told about it by one of the founders (who happens to be one of my best friends from university). He is a good talker. He has been working on ideas that exploit the local online news space, and this revenue opportunity jumped out of the business plan. The site itself is up and running in open beta, and initial feedback is encouraging. I expect it will take root at the hyper-local level and grow like a weed by word of mouth.

Who is it aimed at?

For now, the merchant base is pretty broad while it finds its niche(s), but initial take up has been with IT types, work from home mums and 'man and van' businesses. It will be interesting to see where it goes. The site has been built to scale internationally so the model may appeal to the more fluid, mobile workforces of India or Brazil.

Why is it called Ginjex?
It's short for Global Instant Jobs Exchange.

What makes it interesting?

It's bang on the hot spots of mobile, local and real-time, and has the management team to deliver. With traditional directories and local print news in turmoil this space is up for grabs so Ginjex is a key player to watch. It also has the potential to scale globally, very quickly, which for a London start-up makes it especially interesting.

What are the challenges?

With any directory model you have to scale the merchants (supply) in tandem with the users (demand) which makes for double the marketing challenge. Its all about traction. The skill is to get a foothold in a specific vertical and grow from there. The reward is a highly lucrative business model once established.

Would you invest in it?

Yes. In fact, I already have...