Start-up Star: Toby Darbyshire of Engensa
FUTURE LEADERS AWARDS: Toby Darbyshire, CEO and co-founder of Engensa, won the Start-up star category. He launched solar panel company Engensa in 2009.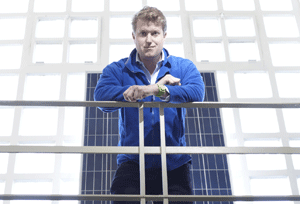 As a consultant at Bain & Co, Darbyshire, 31, spent several years advising large companies on renewable energy. But he realised that if change was going to happen, the focus needed to shift from large corporations to helping the UK's 26 million households, which consume 40% of the nation's energy.
'Cracking the domestic market is one of the biggest challenges,' he explains. With his co-founder, Toby Ferenczi, Darbyshire launched Engensa in 2009 to help families cut energy bills and become more sustainable by changing the way they heat and power their homes. 'Sustainability is not just about lowering carbon emissions. It's about enabling society to move to a lifestyle that is neither wasteful nor harmful to the environment,' Darbyshire says.
Engensa's main activity is the installation of solar panels. The company's 100-strong team help homeowners finance, install and maintain the electricity generators, which can cut a household's energy bills by up to £1,000 a year. Engensa's solar panels have been such a success that the company is now turning its attention to boilers and heat pumps. 'Darbyshire has true entrepreneurial zeal,' says Go On UK chair Martha Lane Fox, who was involved early on in the awards.