This startup sent a burger and chips into space
The founders of Chosen Bun wanted to prove their burger could go boldly where no burger has gone before.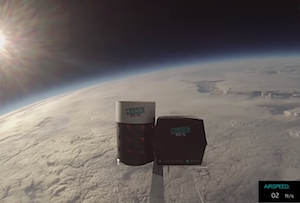 The latest blue-sky thinkers to join Elon Musk in the ranks of entrepreneurs who have successfully sent things into space do not include Richard Branson. Rather they are the founders of London burger delivery startup Chosen Bun, who sent a humble beef patty and chips up to 112,000 feet.

'We predominantly thought it would be quite fun,' co-founder Andy Shovel told MT. 'We both really like space – me and my business partner Pete [Sharman].'

'We're both quite keen on physics - but we don't have physics degrees,' he added, making sure MT didn't make the same assumptive leap as the Mail Online.

The junk food didn't quite join the space junk orbiting Earth, though. It technically only got to 'near space', before floating back down to a field near where it had taken off attached to a large balloon (although not before all of the chips were flung out into the ether). And by that time the burger was as cold as the dark side of the moon.



The publicity stunt, which cost around £2,000 (although Shovel claims 'you can't put a price on fun'), did have a business rationale – to show off their burger delivery packaging. It took them four months to design themselves and £5,000 to patent what Shovel is 'fairly certain' is a first, at least in the UK.

'We've delivered around 100,000 burgers in the year we've been open and we've only had, I'd say, around 1.5 complaints about the burger not being perfect,' he said. 'And I think one of them just probably wanted a free meal.'

Sending a meal into space wasn't Chosen Bun's first packaging-related publicity stunt either. Shovel and Sharman, now 27 and 28 respectively, drove from Fulham to Istanbul to deliver a burger strapped to the car roof 'to a guy in a souk who we pretended ordered it'. They also catapulted one from three stories up. Their biggest issue now? Having hit 'the figurative and literal ceiling in terms of how we can promote our burgers'.

The two, who like any celebrity couple worth their salt have a joint moniker – 'Shovelman', were introduced by a mutual friend when Shovel was on the look out for a business partner in 2012, having sold a stake in his former startup Recruitment Squared two years in ('I didn't really like recruitment that much.').

Sharman was working at Coke but looking for something more entrepreneurial, and was convinced to 'take the plunge' after meeting his future business partner every day for seven days in Home House, a London private members club Shovel describes as 'quite naff'.
We sell burgers & have beards. pic.twitter.com/AHMhpEYx0F

— Chosen Bun (Andy) (@ChosenBun) July 16, 2014