Stat of the day: €16bn
The fortune accrued by L'Oreal heiress Liliane Bettencourt, who has just been put under the guardianship of her family after concerns about her mental health.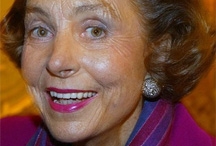 It's the stuff of Hollywood tragedy: Liliane Bettencourt, the L'Oréal heiress and France's wealthiest woman, has finally lost a long-standing family tug-of-war over control of her fortune.

A Paris judge ruled that Bettencourt was to be put under the guardianship of members of her family, following concerns about Bettencourt's mental health. Her estranged daughter, Françoise Bettencourt-Meyers, along with two grandsons, will now control her estimated €16bn fortune.

Françoise started the legal battle two years ago after concerns her mother had become the target of fortune hunters. But Ms Bettencourt recently told a French newspaper it would be her 'worst nightmare' to be placed under the control of her daughter. 'If my daughter was in charge of me, I would suffocate...I would have no more desire to live,' she said. So much for keeping it in the family…