Stat of the day: 100
The number of mortgages Metro Bank has given out in the last 15 months.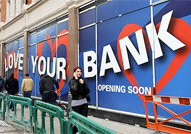 When it launched to great fanfare last year, Metro Bank promised to shake-up British high street banking and to give consumers a real alternative to banking giants like Lloyds, HSBC and Barclays.

But figures released this morning suggest it's having trouble flexing its muscles against the big boys. Just 100 mortgage loans have been dished out in the last 15 months, according to the Financial Times, suggesting Metro's still having trouble squaring up to the big lenders. One reason it's struggling to lend is because it offers two-year fixed rates from 3.95%; while the best rates elsewhere are below 3%. That's hardly likely to get people charging through the door.