Stat of the day: $101,119
Partridges... Turtle doves... Gold rings... It all adds up. This is the amount it would cost to buy all 364 items in the 'Twelve Days of Christmas'.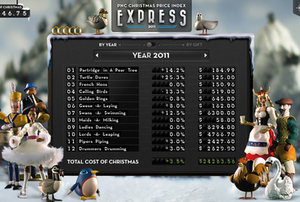 The annual Christmas Price Index, compiled by PNC Wealth Management, has done a bit of bean-counting for all the romantics out there. If you wanted to buy all the items from the famous Christmas ditty, The Twelve Days of Christmas, you'd have to fork out over £100,000. And you'll kick yourself for not doing it last year - prices were an average of 4.4% cheaper in 2010.
So what would you get for your money? Well, it would be an absolute cacophony with 12 drummers drumming and 22 pipers piping. Strictly would have nothing on your toe-tapping celebrations with 30 lords-a-leaping and 36 ladies dancing. With the price of gold on the rise, your 40 gold rings could be a decent investment. And you could open a dairy with your 40 maids-a-milking. But you'd better be a bird lover, with 42 swans-a-swimming, 42 geese-a-laying, 36 calling birds, 30 French hens, 22 turtle doves, and 12 partridges in pear trees cooing, scratching and sending feathers flying.
For the more prudent Christmas shopper, a single set of each verse in the song will cost $24,263 this year (a more moderate 3.5 percent rise on 2010).