Stat of the day: $10.7bn
The scale of Warren Buffet's investment in IBM. The business magnate and self-confessed technophobe has overcome his aversion to that newfangled electronic whatnot to buy up 5.5% of the technology giant.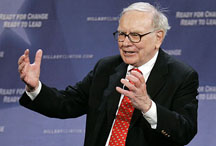 Buffett has never invested in a technology firm before and now he is IBM's second largest shareholder. Who says you can't teach an old dog new tricks? The Berkshire Hathaway chief executive said he was struck by IBM's ability to retain corporate clients, which made it a tasty investment for him.
IBM shares hit $189.84 earlier today, just a few cents off the stock's all-time high of $190.53.
One thing that Warren Buffett won't be investing in is the EU banking system, however. The billionaire told CNBC that the risks were still too great: 'Europe has found a fundamental flaw which is that they cannot print money. When you have a loss of confidence, that begins a run on sovereign debt and banks.'