Stat of the day: 1,245
The (surprisingly large) number of bus companies in Britain.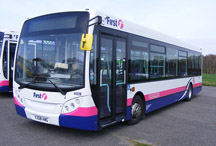 The wheels on the bus may go round and round, but they're also about to be profoundly shaken-up after regulators called for the biggest changes to the UK bus market for 25 years. There are a staggering 1,245 bus firms in Britain, but the market is apparently dominated by just five transport giants, who between them control 69% of Britain's local bus services.
The Competition Commission found that in many areas, the top five – Arriva, FirstGroup, Go-Ahead, National Express and Stagecoach – faced almost no competition, sometimes leading to higher fares for passengers.
The Commission's suggestions include forcing big companies to open their bus stations to smaller rivals, and launching multi-operator ticket systems (similar to London's Oyster card). Who knows? For some, this could be their final stop…